Rapid Testing
Dear Parents and Carers,
You will be aware that the government has announced a programme of in-school testing for Covid-19. This is using the new, quicker Covid-19 tests known as "lateral flow tests." The tests are not compulsory, but we do encourage you to take them. They are designed only for those without coronavirus symptoms. Anyone who is displaying coronavirus symptoms (a high temperature, a new continuous cough or a loss or change in your sense of smell or taste) should remain at home and apply for a Covid-19 test through the NHS here.
In order to support us with our planning for Covid-19 testing we are asking families to provide consent for their child to be involved in the testing programme. To provide that consent please click here or click on the image below.
Please be aware the DfE and the NHS have advised us that "people who decline to participate in serial testing will follow the usual national guidelines and are legally obliged to self-isolate following contact with a positive case of Covid-19 according to the advice given to them by the NHS Test and Trace service".
Click here for the DfE Privacy Notice that explains the Ownership of Personal Data.
Lateral Flow Testing
The video below has been produced by the UK Government to describe the lateral-flow procedure:
Consent - Students
NHS Test and Trace consent form for COVID-19 testing
This common consent form has been designed for use by parents and carers of students
For Enfield County students - the [digital form above] must be completed by the parent or carer:
I have had the opportunity to consider the information provided by Enfield County about the testing, ask questions and have had these answered satisfactorily (via ecsgeneral@enfieldcs.enfield.sch.uk), based on the information presented.
I have discussed the testing with my daughter and my daughter is happy to participate. If on the day of testing she does not wish to take part, then she will not be made to do so and consent can be withdrawn at any time ahead of the test.
I consent to my daughter having a nose and throat swab for a lateral flow test.
I consent that my daughters sample(s) will be tested for the presence of COVID-19.
I understand that if my daughter's results are negative on the lateral flow test I will not be contacted by Enfield County except where they are a close contact of a confirmed positive.
If the lateral flow test indicates the presence of COVID-19, I consent to my daughter having a nose and throat swab for confirmatory PCR testing, which shall be sent the same day to an NHS Test and Trace laboratory.
I consent that she will need to self-isolate following a positive lateral flow test result, until the results of the confirmatory PCR have been received.
I agree that if my daughter's test results are confirmed to be positive from this PCR test, I will report this to Enfield County (via ecsgeneral@enfileldcs.enfield.sch.uk) and I understand that my daughter will be required to self-isolate following public health advice.
Student Testing - Visual
Below you can find a information graphic that Enfield County students can follow to understand how the swab will work. Although this may be a little uncomfortable, it is a rapid test which will allow test and trace to be more effective.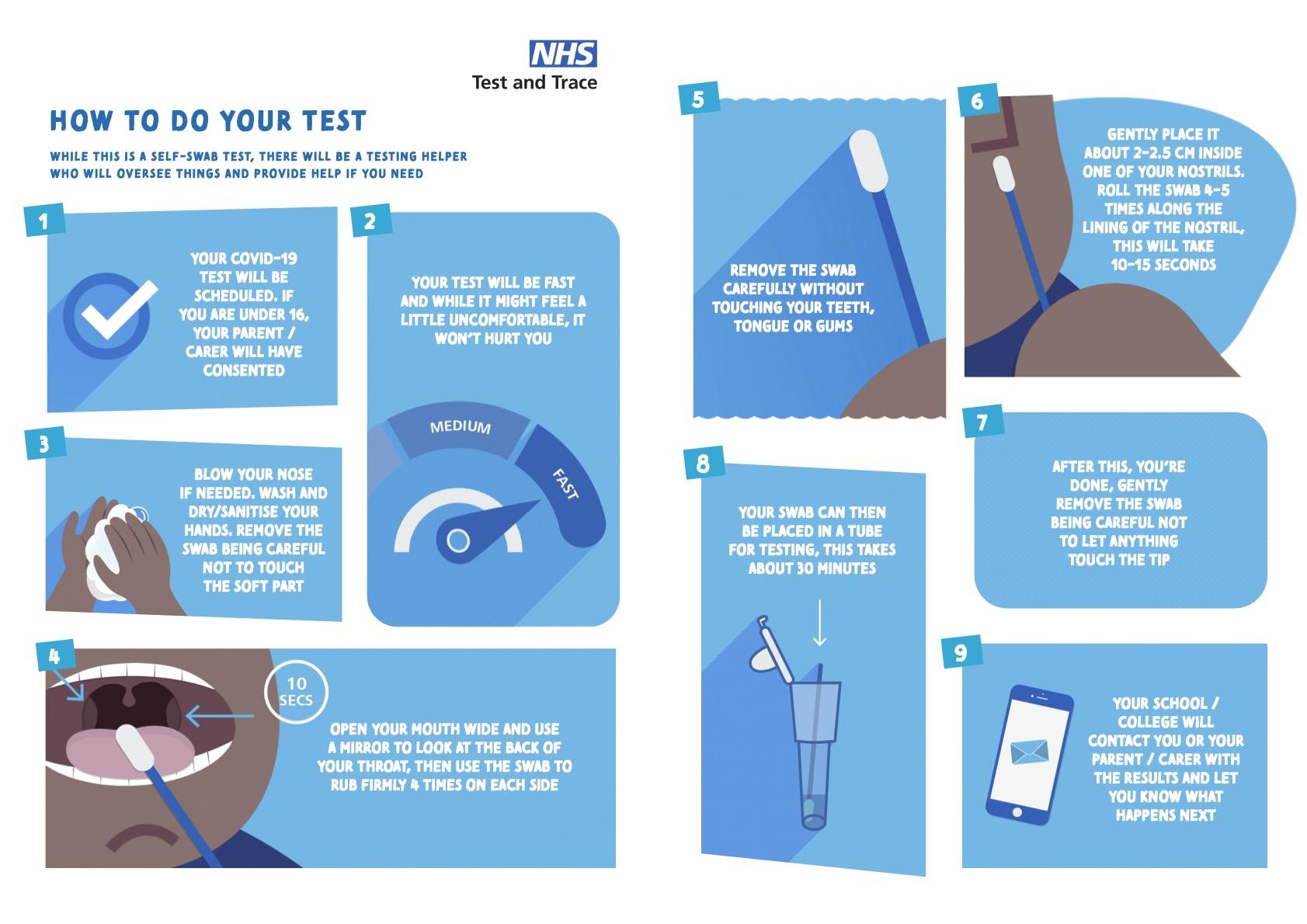 Schools and Colleges Handbook
Below you can find key Rapid Testing procedures, as set out by the DfE within the Schools and Colleges Handbook, published on 15/12/2020, click here.
Serial Testing
Serial testing is designed to allow 'close contacts' of someone who has tested positive for Covid-19 to return to school if you have agreed to be tested daily for 7 days.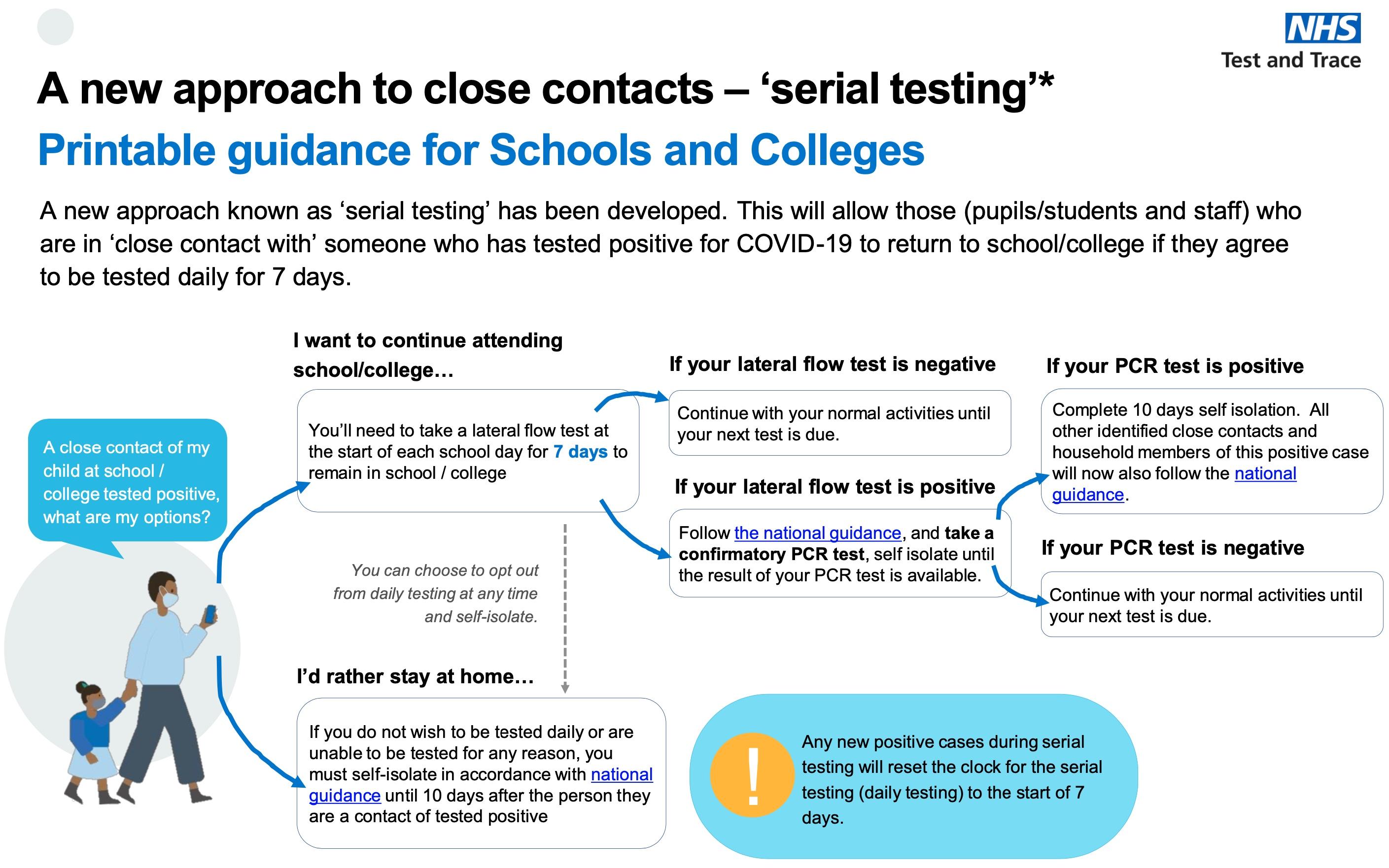 Parent / Student - Positive / Negative Results
This visual summarises what a positive / negative result means for you and your household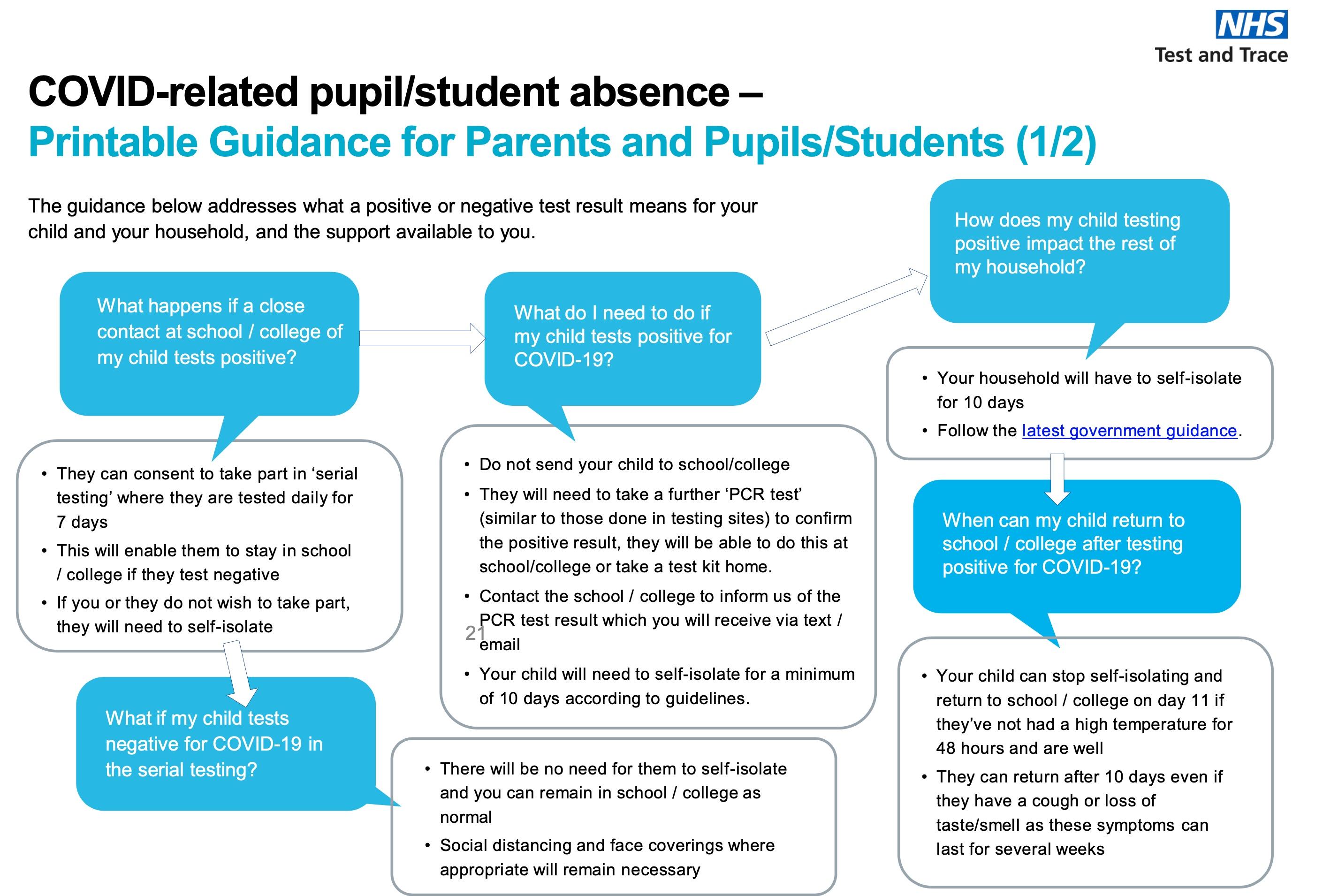 Staff - Positive / Negative Result
This visual summarises what a positive / negative result means for Enfield County staff and their household
If you still require additional information regarding rapid testing, please go to the Contact Us page for your enquiry.